"She whipped out her wand, waved it, muttered something, and sent a jet of the same bluebell flames she had used on Snape at the plant. In a matter of seconds, the two boys felt it loosening its grip as it cringed away from the light and warmth."
—Hermione using the spell against the Devil's Snare.
Bluebell Flames, also known as Cold Fire, is a charm that conjures bright blue, waterproof flames.
Although the fire produced can be scooped up and carried about in a jar[1], it can still burn things.
Known practicioners
Known uses
Behind the scenes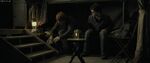 Appearances
Notes and references