"There are plenty of eye-witness accounts. Just because you're so narrow-minded you need to have everything shoved under your nose before you–"

This article contains a list of appearances, but currently has few or no notes and references. Please help the Harry Potter Wiki by adding notes and/or references to bring this article to a higher standard of quality.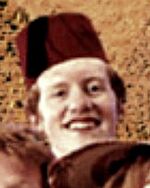 The role of best man is a ceremonial position at both magical and muggle weddings. The role is generally chosen by the groom, and is therefore normally occupied by someone close to him. At the Wedding of James Potter and Lily Evans Sirius Black was chosen as the best man as he was the best friend of the groom. Similarly, the best man at the Wedding of William Weasley and Fleur Delacour was Charles Weasley, the eldest brother of the groom. It is possible that, as in the Muggle world, the best man is usually made the godfather of the wedded couple's first child. This theory is supported by the fact that Sirius Black became the godfather of Lily and James Potter's eldest child.
Known best men
Appearances