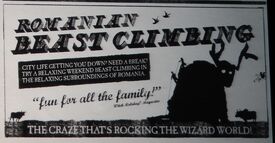 Beast climbing was a wizarding activity in which wizards climb to the top of extremely large animals.[1]
An advertisement in the Daily Prophet promoted beast climbing holidays in Romania, calling them "the craze that's rocking the wizard world," and inviting witches and wizards tired of "city life" to come spend a "relaxing weekend beast climbing in the relaxing surroundings of Romania." It also included a quote from Witch Holiday? Magazine declaring Romanian beast climbing vacations to be "fun for the whole family."[1]
Appearances
Notes and references
Ad blocker interference detected!
Wikia is a free-to-use site that makes money from advertising. We have a modified experience for viewers using ad blockers

Wikia is not accessible if you've made further modifications. Remove the custom ad blocker rule(s) and the page will load as expected.