The Bean Bonus Room (also known as the Bonus Bean Room) is a room in Hogwarts where students can visit to collect Bertie Bott's Every-Flavour Beans and treats, usually acting on a time limit.
History
1992–1993 school year
Houses competed in the 1992–1993 school year to allow one student into the room. The room was full of beans which Harry had to collect. Dumbledore tallied the House points in the House Point Ceremony Chamber. If Gryffindor won the tally, then Harry Potter could enter the Bean Room. However if Slytherin won, Draco Malfoy would get the honours. Students could access more parts of the Bean Bonus Room as they learned more spells throughout the school year.
1993–1994 school year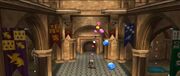 In the 1993–1994 school year, the Bean Bonus Room's location and layout were changed. A student had to find the ten challenge shields to enter. It was located in the side chamber off the Entrance Hall and now included Cauldron Cakes and Pumpkin Pasties. Some of the suits of armour, which appeared in the Battle of Hogwarts were used in the room for holding sweets.
If Harry Potter had collected all Chocolate Frog Cards, by the end of the 1993-1994 school year, Fred and George Weasley would allow him to enter the Bean Bonus Room without a time limit and collect the Founders', Albus Dumbledore's, and his own Chocolate Frog Cards.
Behind the scenes
Appearances