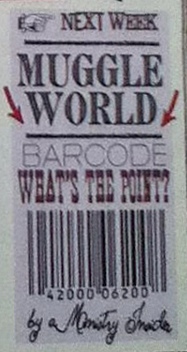 A barcode was a printed sequence of parallel bars of varying thickness.[1] The bars represented the binary numbers 0 and 1, which could in turn be grouped in longer sequences to represent the numbers 0 to 9.[1] Barcodes were included on Muggle consumer goods and could be read by optical-scanning machines to allow products to be quickly inventoried and identified.[1]
In a 1996 issue, The Quibbler published a teaser for an upcoming article on barcodes, part of its semi-regular "Muggle World" series written by a "Ministry Insider."[2]
Known barcodes
Appearances
Notes and references
Ad blocker interference detected!
Wikia is a free-to-use site that makes money from advertising. We have a modified experience for viewers using ad blockers

Wikia is not accessible if you've made further modifications. Remove the custom ad blocker rule(s) and the page will load as expected.