Baptism (or Christening) is, in Christianity, for the majority the rite of admission (or adoption) almost invariable with the use of water, into the Christian Church generally and also membership of a particular church tradition. Baptism has been called a sacrament and an ordinance of Jesus of Nazareth.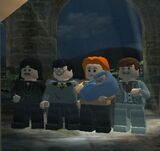 Baptisms were held at Christmas in the Parish Church of St. Clementine.[1]
Harry Potter was baptised Between 1980 and 1981.[2]
Appearances
Notes