Ad blocker interference detected!
Wikia is a free-to-use site that makes money from advertising. We have a modified experience for viewers using ad blockers

Wikia is not accessible if you've made further modifications. Remove the custom ad blocker rule(s) and the page will load as expected.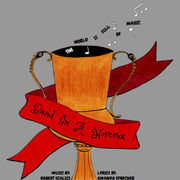 Band In A Horcrux is the premier Wizard jazz band, inspired by the Harry Potter book series by J. K. Rowling. Based in New York City, the band is solely comprised of two proud Hufflepuffs, Amanda Sprecher and Robert Scalici. The band's name is a spin-off of their muggle band name, Band In A Box.
Known records
Albums
"The World Is Full Of Magic"
Singles
P-P-P-Petrified
Dear Wizard Boy
The Yule Ball
Songs
Accio Sanity
From The Bleachers'
I Broke My Wand... Again
You're My Golden Snitch
My Jobberknoll Is Dead
Sweet Treats
My First Year
Winter Break At Hogwarts
Slytherin Love
The World Is Full Of Magic
Performances
Locations
Events
Wizard Rock Night at Sidewalk Cafe!
Avada KedavRock! 2014