Azul Marino ink was a type of ink that the Wizarding Examinations Authority's Magical Regulation 572 required Fifth year students at Hogwarts to use when sitting their O.W.L. exams.
The ink was presumably a deep blue colour (azul marino being the Spanish term for ultramarine).[1]
Appearances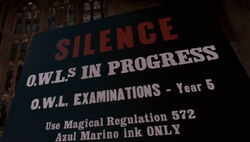 Notes and references
Ad blocker interference detected!
Wikia is a free-to-use site that makes money from advertising. We have a modified experience for viewers using ad blockers

Wikia is not accessible if you've made further modifications. Remove the custom ad blocker rule(s) and the page will load as expected.