Avifors
Incantation

Avifors (AVI-forz)

Type
Light

Vivid Blue

Effect

Turns beasts and objects into birds
Avifors (AVI-forz) is a Transforming spell that transfigures objects into a bird or a flock of birds. This spell is learned in first and revised in second-year Transfiguration class. It should not be confused with the Conjuration, Avis.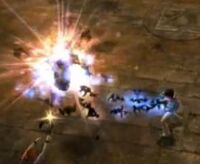 Etymology
From Latin avis meaning bird, and "fors" (a suffix often used in transfiguration spells) is Latin for "chance, luck, fortune", though it may also come from "forma" (or simply English form) meaning form.
Appearances