"Lestrange, I want that essay on my desk by tomorrow or it's detention. Same goes for you, Avery."
—Horace Slughorn to Avery.
Avery (born c. 1926) was a wizard who attended Hogwarts School of Witchcraft and Wizardry and was sorted into Slytherin. He was a member of Tom Riddle's gang when they attended Hogwarts, and was a member of the Slug Club.
Biography
Early life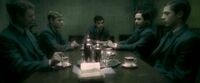 Avery attended at Hogwarts at the same time as Tom Riddle, and was sorted into Slytherin house. He became a member of Riddle's gang, and was a favourite student of Horace Slughorn. Avery was present at the same Slug Club meeting in 1944 or 1945 as Tom Riddle and was reprimanded by the Potions Master for failing to hand in a particular essay.[3]
Etymology
Avery is an English surname derived from an Old French version of the name Alfred. The meaning of the name is derived from the Old English words aelf, meaning elf, and raed, meaning counsel.
Behind the scenes
Avery was portrayed by Humphrey Bartosik in the film adaption of Harry Potter and the Half-Blood Prince.
Appearances
Notes and references