"Its powdered root is a potion ingredient. From the lily family, this plant has long, slender leaves. Its name comes from the Greek asphodelos."
Asphodel (also known as Royal Staff[1]) is a member of the lily family and has long and slender leaves. It is found worldwide, and was known to grow in the Hogwarts grounds.
Uses
Asphodel has both magical and non-magical uses.[1] Powdered root of Asphodel is used in the creation of various potions, such as the Draught of Living Death,[2] and the Wiggenweld Potion.[3]
Behind the scenes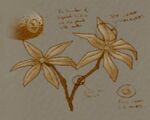 Asphodel (Asphodelus ramosus) is a relative of the lily and native to Europe. The ancient Greeks associated it with the death and the underworld, believing there was a meadow of asphodel in Elysian Fields,[4] and considered it sacred to Persephone, goddess of the spring and queen of the underworld. Asphodel was once believed to be a favourite food of the dead, and so was commonly planted near graves.[5]
Appearances
Notes and references
Ad blocker interference detected!
Wikia is a free-to-use site that makes money from advertising. We have a modified experience for viewers using ad blockers

Wikia is not accessible if you've made further modifications. Remove the custom ad blocker rule(s) and the page will load as expected.