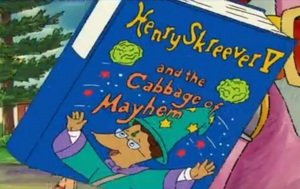 Arthur is both a series of picture books written and illustrated by Marc Brown and a children's animated television series produced by Cookie Jar Entertainment, aired on PBSKids in the United States and TVOKids in Canada. The programme focuses on the life-learning adventures of eight year old Arthur Read, his family and circle of friends in the fictional Elwood City while aiming to teach viewers about reading and pro-social lessons. The programme is known for its use of celebrity guest voices as well as its popularity outside its targeted demographic and carries the distinctions of being both the longest running children's animated series in the United States and second longest running animated series behind only The Simpsons.[1]
Arthur has parodied the Harry Potter series using the character "Henry Skreever." The character was first featured in a story titled "Prunella's Special Edition" in which the character Prunella ordered a special edition of Henry Skreever and the Cabbage of Mayhem, but received a Braille copy instead. The events of the story led to her meeting a new character named Marina, who was blind. The second story, "Prunella Sees the Light," focused on a movie release titled Henry Skreever and the Brick of Wonders. In the final parody "Prunella Deegan and the Disappointing Ending," Prunella and Marina raced to finish the final instalment in the series The Knights of the Bouillabaisse.
Many terms from the Harry Potter franchise are parodied, such as a "Mangling Maple" in place of the Whomping Willow, and students at "Pigblisters" ride flying carpets, a proscribed Muggle artefact in most countries in the Potter franchise.[2]
Notes and references