"... he walked straight into Ginny, Arnold the Pygmy Puff riding on her shoulder and Crookshanks mewing hopefully at her heels [...] his yellow eyes fixed upon Arnold..."
— Harry bumping into Ginny during a party in the Gryffindor common room in Hogwarts in late 1996
Arnold was Ginny Weasley's purple Pygmy Puff,[1] or miniature Puffskein.[2]
Biography
Edit
Arnold was purchased from Ginny's brothers Fred and George Weasley at their shop in August of 1996.[2] Arnold was transported in a cage during the car ride from The Burrow to King's Cross Station on 1 September 1996.[1] In the Gryffindor common room in Hogwarts he was seen playing with Ginny[3] or riding her shoulder.[4] It is likely that he was taken with the Weasleys when the family went into hiding in the spring of 1998.
Etymology
Edit
Ginny's father, Arthur Weasley, was mistakenly called "Arnold Weasley" in a 1994 Daily Prophet article written by Rita Skeeter. "Arnold" is also an anagram of "Ronald", a possible reference to Ginny's older brother.
Behind the scenes
Edit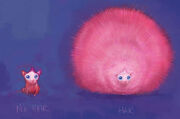 Appearances
Edit
Notes and references
Edit
Ad blocker interference detected!
Wikia is a free-to-use site that makes money from advertising. We have a modified experience for viewers using ad blockers

Wikia is not accessible if you've made further modifications. Remove the custom ad blocker rule(s) and the page will load as expected.