Ariella Paradise
Biographical information
Born

1998

Nationality
Current residence

Hong Kong, China[1]

Gender

Female

Eye colour

Brown

Hair colour

Brown

Family
Website
Career
Years active
In Harry Potter

Young Petunia Evans
Ariella Paradise is an English actress who played young Petunia Evans in Harry Potter and the Deathly Hallows: Part 2. To date, this is her only professional acting credit and she has not appeared in any other work since.[4]
Personal life
Ariella Paradise was born in London, England. As a child, she schooled at St. Paul's Girls' School. She currently resides in Hong Kong, China.[1] In September 2013, aged 15-16, Paradise married a young woman named Cecilia Shutter in a private ceremony.[1][2][3]
Filmography
Film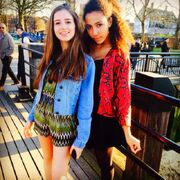 References
External links
This article about an actor or actress is a stub. You can help by expanding it.