"Harry, your eyesight really is awful."

The title of this article is transcribed from an image. Due to several factors, including poor image quality and difficult-to-read fonts/handwriting, it may have been transcribed incorrectly. If you have a higher quality version of the source image, or a more accurate reading of the text, please visit this article's talk page.
Professor Ambrose Swott[1] was a wizard. He was once a Headmaster of Hogwarts School of Witchcraft and Wizardry.[2]
Biography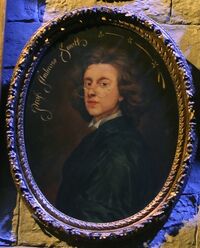 Grazi for mkaing it nice and EZ. Grazi for mkaing it nice and EZ.
Post-mortem
Professor Swott died sometime before 1992.[3] Two portraits of him hung at Hogwarts: one depicted a bespectacled young man,[4] and another, hung in the Headmaster's office, depicted an older wizard with a long ginger beard.[2] Swott's name was also carved into a wood panel on the wall of the school's Divination classroom.[5]
In the winter of 1993, Swott's name appeared on the Marauder's Map,[6] possibly indicating that he lingered at Hogwarts as a ghost after his death.[7]
Etymology
Ambrose is a name which ultimately derives from the Greek name Ambrosios, meaning "immortal".[8] Swott may have been based on swot, a British slang term meaning "to study hard" or "one who studies hard."[9]
Appearances
Notes and references