"Ora et Labora."
—Professor Swott's motto, inscribed on his portrait
Professor Amrose Swott[2] was a wizard. He was once a Headmaster of Hogwarts School of Witchcraft and Wizardry.[3]
Biography
Edit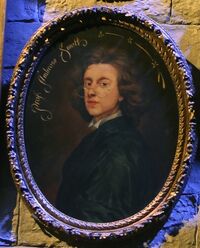 Professor Swott lived in the early 18th century.[2] He became the Headmaster of Hogwarts School of Witchcraft and Wizardry at some point.
Post-mortem
Edit
Professor Swott died sometime in or prior to 1992.[1] Two portraits of him hung at Hogwarts: one depicted a bespectacled young man,[4] and another, painted in 1724[2] and hung in the Headmaster's office, depicted an older wizard with a long ginger beard.[3] Swott's name was also carved into a wood panel on the wall of the school's Divination classroom.[5]
In the winter of 1993, Swott's name appeared on the Marauder's Map,[6] presumably indicating that he lingered at Hogwarts as a ghost after his death,[7] or that there is a student named after him.
Etymology
Edit
"Ambrose" is a name, which ultimately derives from the Greek name Ambrosios, meaning "immortal".[8] Swott may have been based on swot, a British slang term, meaning "to study hard" or "one who studies hard."[9]
Behind the scenes
Edit
It is possible that Swott's portrait is a reference to a portrait of Johannes Kepler, a German mathematician, astronomer and astrologer.
The portrait depicting a younger Swott seems to have been based on a 1685 self-portrait of Sir Godfrey Kneller (1646-1723).
The motto inscribed on Swott's portrait, "Ora et Labora" (meaning "Pray and Work") was the motto of the Benedictine monks.
Appearances
Edit
Notes and references
Edit
Ad blocker interference detected!
Wikia is a free-to-use site that makes money from advertising. We have a modified experience for viewers using ad blockers

Wikia is not accessible if you've made further modifications. Remove the custom ad blocker rule(s) and the page will load as expected.