"Albus Dumbledore was never proud or vain; he could find something to value in anyone, however apparently insignificant or wretched, and I believe that his early losses endowed him with great humanity and sympathy. I shall miss his friendship more than I can say, but my loss is as nothing compared to the wizarding world's. That he was the most inspiring and the best loved of all Hogwarts headmasters cannot be in question."
—Elphias Doge in Dumbledore's obituary
Professor Albus Percival Wulfric Brian Dumbledore, O.M. (First Class), Grand Sorc., D. Wiz., X.J.(sorc.), S. of Mag.Q.[8] (c. Summer[1], 1881[2]– 30 June, 1997[5]) was the Transfiguration Professor, and later Headmaster of Hogwarts School of Witchcraft and Wizardry. Professor Dumbledore also served as Supreme Mugwump of the International Confederation of Wizards (?–1995) and Chief Warlock of the Wizengamot (?–1995; 1996-1997). He was a half-blood, Muggle-supporting wizard, the son of Percival and Kendra Dumbledore, and the elder brother of Aberforth and Ariana. His father died in Azkaban when Dumbledore was young, while his mother and sister were later accidentally killed. His early losses greatly affected him early on, even at his death, but in turn made him a better person. Albus Dumbledore was considered to be the most powerful wizard of his time. He was most famous for his defeat of Gellert Grindelwald, the discovery of the twelve uses of dragon's blood, and his work on alchemy with Nicolas Flamel.
It was through Dumbledore that resistance to the rise of Lord Voldemort was formed, as it was he who founded and led both the first and second Order of the Phoenix. Due to the fact that he had a keen mind and legendary power, Dumbledore became the only wizard that Voldemort ever feared. He was the wielder and the master of the Elder Wand from 1945 until 1997 and considered by many as the greatest Headmaster to ever grace Hogwarts. As he was about to die by a cursed ring, he planned his own death with Severus Snape. He was killed by Snape during the Battle of the Astronomy Tower.
Though he was no longer alive at the time, it was through Dumbledore's manipulations that Voldemort was ultimately defeated and peace restored to the wizarding world. He is the only Headmaster that was laid to rest at Hogwarts. Albus Dumbledore's portrait still remains at Hogwarts. Harry Potter later named his second son Albus Severus Potter after him.
BiographyEdit
Early life (1881-1892)Edit
Albus Percival Wulfric Brian Dumbledore was born to Kendra and Percival Dumbledore in the summer[1] of 1881, in the mainly wizarding village of Mould-on-the-Wold.[9] The early years of Dumbledore's life were marked by tragedy when his younger sister, Ariana Dumbledore, was attacked by a group of Muggle boys, who saw her performing magic and were frightened by what they saw.
Ariana was left mentally and emotionally scarred by the event and her magical powers were left severely altered and would manifest themselves on rare occasions usually in random or destructive ways. Albus' father, Percival Dumbledore, was heartbroken and set out in search of his own brand of justice. He located the Muggle boys and attacked them, as they had his daughter. For this, Percival was sentenced to Azkaban where he later died.
To escape the accusing eyes of the wizarding world, Kendra Dumbledore moved her young family to the village of Godric's Hollow which, like Mould-on-the-Wold, was a mainly wizarding village. Kendra rebuffed all her neighbours, with the eventual exception of Bathilda Bagshot, preferring to be left alone: and Albus learned not to mention his sister or father in public.[10]
Hogwarts years (1892- 1899)Edit
"By the end of his first year, he would never again be known as the son of a Muggle-hater, but as nothing more or less than the most brilliant student ever seen at the school."
—Elphias Doge on Dumbledore's school years
Dumbledore began attending Hogwarts in the autumn of 1892 and was Sorted into Gryffindor house. Dumbledore's first year was met with much whispering about his father's crime. Many of Albus' fellow students mistakenly believed that, like father like son, Albus too hated Muggles. Some praised his father's actions hoping to gain his trust, but they would not find favour with the young Dumbledore this way. Though later in his young life, under the influence of his love for Gellert Grindelwald, some anti-Muggle prejudice did develop, he soon saw the error of his intent.[10]
He befriended a young Elphias Doge on his first day at Hogwarts; Doge was suffering from the aftermath of Dragon pox at the time (greenish skin and pockmarks), which discouraged most from approaching him. Dumbledore, however, demonstrated his uncommon kindness and willingness to look past the surface and find inner beauty in people. Dumbledore also became very well-connected during his Hogwarts years, making notable friends such as Nicolas Flamel, Bathilda Bagshot, and Griselda Marchbanks, who marked him in his N.E.W.T.s for Charms and Transfiguration and later recalled that he did things with a wand that she had never seen before. He also had several of his papers published during his studies.[10]
During his school years, Dumbledore won the Barnabus Finkley Prize for Exceptional Spell-Casting, became the British Youth Representative to the Wizengamot, and received the gold medal for Ground-Breaking Contribution to the International Alchemical Conference in Cairo.[10]
In his third year, Dumbledore presumably took Study of Ancient Runes and at least one other subject, which is known not to be Divination.
During his fourth year, Dumbledore "accidentally" set the bed-curtains in his dormitory on fire (although he admitted that he had never liked them anyway).
Albus was made a prefect during his fifth year and was made Head Boy in his seventh year. He was considered the most brilliant student to have attended the school.
Tragedy and friendship (1899- pre.1930s)Edit
"So that, when my mother died, and I was left the responsibility of a damaged sister and a wayward brother, I returned to my village in anger and bitterness. Trapped and wasted, I thought! And then, of course, he came."
—Albus Dumbledore discussing his past with Harry Potter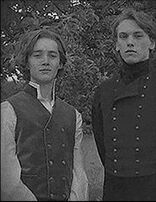 After graduating from Hogwarts in June 1899, Dumbledore planned to take the traditional "Grand Tour" of the world with his friend Doge. However tragedy ensued on the eve of the departure when Kendra Dumbledore was killed by an outburst of Ariana's uncontrollable magic, leaving Albus the head of his own broken family.
Albus returned to Godric's Hollow full of bitter resentment at his situation, feeling trapped and wasted. Fortune finally shone on Dumbledore in the form of Gellert Grindelwald, who was in Godric's Hollow to research the Deathly Hallows. Grindelwald was as talented and brilliant as Albus was. Dumbledore quickly became fascinated by Grindelwald's ideas of wizarding domination, obviously considering Grindelwald an unexpected new chance to show his own brilliance and come out of the local misery. Albus also harboured romantic feelings for the other boy, but regretted his relationship with Grindelwald later in life.[10]
However, after two months, Albus's brother Aberforth confronted him over his neglect of Ariana over the past few weeks, telling him he couldn't carry out his plans with Grindelwald, as he would have to take her with him. Grindelwald then used the Cruciatus Curse on him. A violent duel erupted between the three teenage boys. Ariana herself tried to intervene in the fight, but couldn't due to her erratic abilities, and in the ensuing chaos was hit by a stray curse and died. No one knew whose curse it was that killed her, but Grindelwald fled immediately, as he already had a bad record back home, leaving the devastated Albus behind.[10]
Career at Hogwarts (pre. 1938-1970)Edit
Dumbledore: "I had proven, as a very young man, that power was my weakness and temptation. I was safer at Hogwarts. I think I was a good teacher."
Harry: "You were the best."
— Albus Dumbledore and Harry Potter discussing power and leadership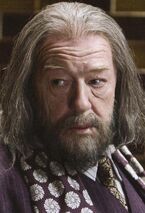 After Grindelwald's flight, Dumbledore returned to Hogwarts School of Witchcraft and Wizardry as Professor of Transfiguration. He was offered the position of Minister for Magic several times, but he turned each chance down since he had learned that his desire for power was his weakness. He also served in recruiting students for the school. Most prominent among the students he recruited was Tom Riddle, who would eventually take on the name Lord Voldemort.[11]
Alone of all the professors at Hogwarts, Dumbledore was not charmed by the natural charisma and cunning of Tom Riddle. In their first encounter, Dumbledore became immediately suspicious of his "obvious instincts for cruelty, secrecy and domination"[11] and resolved to keep a close eye on him during his studies at the school. As Dumbledore was not so easily taken in by his charming façade, Riddle came to despise and fear him.[11]
In 1943, several Muggle-born students were mysteriously petrified by a beast rumoured to have been released by the Heir of Slytherin from the mythical Chamber of Secrets. Indeed, the final victim of the beast, Myrtle, was actually killed; this act seemed likely to ensure the permanent closure of the school, forcing Riddle to go back to the orphanage. While Dumbledore rightly suspected Riddle was behind the attacks, the aspiring Dark Wizard expertly framed Gryffindor student Rubeus Hagrid as the perpetrator. Riddle was able to pass off Hagrid's tamed Acromantula, Aragog, as the beast attacking students, resulting in Hagrid's expulsion and ensuring that Hogwarts remained open. Dumbledore was never able to uncover hard evidence implicating Riddle, however, he nonetheless kept a very close watch over Riddle, preventing him from opening the Chamber of Secrets again during his remaining years at Hogwarts. He was also able to convince the Headmaster to allow Hagrid to remain at the school as the groundskeeper-in-training.
However, as Dumbledore was educating young wizards and witches, Gellert Grindelwald was still at large in Europe, building up an army, and had already found one of the Deathly Hallows, the Elder Wand, which he used to terrorise the continent. Dumbledore was afraid to face Grindelwald, not because he thought he couldn't defeat him, but because he was afraid that Grindelwald could reveal to him who had truly killed Ariana. However, by 1945 Dumbledore could no longer turn a blind eye to Grindelwald's deeds, and tracked his old friend down. He duelled Grindelwald in what later became known as the most legendary duel ever fought between wizards. Dumbledore defeated Grindelwald despite his possession of the Elder Wand. Grindelwald was imprisoned in Nurmengard and Dumbledore kept the Elder Wand for himself.[10] For this, Dumbledore was awarded the Order of Merlin, First Class, by Leonard Spencer-Moon's administration.[12]
Dumbledore was appointed Headmaster of Hogwarts in approximately 1957,[13] succeeding Armando Dippet. During this time, he was offered the position of Minister for Magic several times, but he turned down the offer every time, remembering how his quest for power had been his weakness in the past.
Shortly after Dumbledore became Headmaster, Tom Riddle, now known exclusively as Lord Voldemort, approached Dumbledore with the same request he had proposed to Armando Dippet before him: to be allowed to return to Hogwarts as a teacher of Defence Against the Dark Arts. Dumbledore, who knew of Voldemort's illicit activities since he left Hogwarts, denied his application. This led to Voldemort cursing the position of Defence Against the Dark Arts Professor, preventing anyone from holding the position for more than a single school year.
When Remus Lupin became of age to attend Hogwarts, he was afraid that he would be unable to due to being infected by the werewolf Fenrir Greyback. However, Dumbledore, being fair, believed that as long as special precautions were taken, there was no reason why Remus should be deprived of his education. As such, Dumbledore prepared the Shrieking Shack as a place for Remus' monthly transformation, with the Whomping Willow as guard. This would forever earn Dumbledore Remus' gratitude, as many other headmasters would simply forbid the boy from even setting foot into the school. When Severus Snape found out Remus' secret, Dumbledore forbade him from repeating it to anyone.
As headmaster, Dumbledore would help students with their homework in Classroom E-13 every Friday.
First Wizarding War (1970-1981)Edit
Severus Snape: "Hide them all, then. Keep her — them — safe. Please."
Dumbledore: "And what will you give me in return, Severus?"
Severus Snape: "In — in return? Anything."
— Severus Snape pleading with Dumbledore to protect Lily Potter
After Lord Voldemort started his first rise to power in 1970, Dumbledore founded the Order of the Phoenix, a secret organisation of witches and wizards willing to risk their lives to fight Voldemort and his Death Eaters. As the only wizard Voldemort was ever truly afraid of, Dumbledore was the perfect leader of the organisation and was a significant contributor to the fight against Voldemort.
Later on in the war, Dumbledore was approached by another person who also wanted a job at Hogwarts: Sybill Trelawney, who applied to become the new professor of Divination, lessons that Dumbledore disliked and barely considered a part of necessary education for young wizards and witches. Dumbledore gave her a chance because she was the great-great granddaughter of the celebrated Seer Cassandra Trelawney. To his disappointment, when he was interviewing Sybill at the Hog's Head, he came to the conclusion that she was not a real Seer. However, as Dumbledore was about to leave, Trelawney fell into a real trance and made a prophecy about the birth of the one that would have the power to vanquish the Dark Lord, who would be born to those "who have thrice defied him, born as the seventh month dies".[14] This astonished Dumbledore, but as it turned out, the Death Eater Severus Snape had overheard most of the prophecy, but had been caught in the act of spying and ejected from the tavern by Aberforth Dumbledore.[11] Dumbledore hired Trelawney in order to protect her from the Death Eaters.
Later, Severus Snape approached Dumbledore, having already told Voldemort about the Prophecy. Snape was shocked by the fact that Voldemort had concluded that the prophecy was about Harry Potter, the son of James Potter, and Snape's own loved childhood friend, Lily Evans. Dumbledore made arrangements to ensure the safety of the three; he advised them to stay hidden in their house in Godric's Hollow, which was protected by a Fidelius Charm. However, their Secret-Keeper (believed by Dumbledore and everyone else to be Sirius Black, but was in truth Peter Pettigrew) betrayed them, resulting in James and Lily's deaths at Voldemort's hands. However, as Voldemort attempted to murder Harry, the curse backfired due to Lily Potter's love for her son and destroyed his body, only keeping a part of his soul alive.
Dumbledore, who likely already knew by then that a part of Voldemort's soul had concealed itself within Harry, made sure that Harry would be kept safe with his family, the Dursleys, despite them not being selected as his guardians in the event of James and Lily's death, as his spells ensured that Voldemort could not harm Harry there as long as he could have a home with them. He convinced Snape to help him protect Harry, although Dumbledore secretly planned to allow Voldemort to kill Harry in the end, which would destroy the piece of Voldemort's soul inside Harry. However, he also hoped to mould Harry into such a person who would willingly sacrifice his life for the greater good, allowing him the chance to choose between life and death in the end.
Dumbledore gave Snape employment at Hogwarts as the Potions master, and later defended Snape against the Ministry of Magic, who were rounding up and arresting remaining Death Eaters. Dumbledore attended many Death Eater trials, including that of the Lestranges and Barty Crouch, Jr. He was also witness to Igor Karkaroff's testimony which secured his release from Azkaban in return for the names of fellow Death Eaters.
Shortly before the Potters' deaths, Dumbledore discovered that James's Cloak of Invisibility was in fact one of the Deathly Hallows. Although Dumbledore had long given up his desire to unite the Hallows and become Master of Death, he could not resist the thought of studying the Cloak. To that end, he borrowed it from James while James and Lilly were in hiding. He confirmed that it was indeed the cloak of legend, but before he could return it, James and Lilly were killed by Voldemort. This unfortunate occurrence provided Dumbledore with ownership of two of the Hallows.[10]
Between the wars (1981-1995)Edit
1991–1992Edit
Harry Potter: "But why couldn't Quirrell touch me?"
Dumbledore: "Your mother died to save you. If there is one thing Voldemort cannot understand, it is love. He didn't realise that love as powerful as your mother's for you leaves its own mark. Not a scar, no visible sign… to have been loved so deeply, even though the person who loved us is gone, will give us some protection forever. It is in your very skin. Quirrell, full of hatred, greed, and ambition, sharing his soul with Voldemort, could not touch you for this reason. It was agony to touch a person marked by something so good."
— Albus Dumbledore on the power of love
Ten years later, Harry started attending Hogwarts, as happy as Dumbledore had hoped (with a few exceptions), and alive and well. That very year, Lord Voldemort formulated a plan to regain human form. Dumbledore and his friend Nicolas Flamel, the only known maker of the Philosopher's Stone, began to suspect that the disembodied Dark Lord was plotting to steal the invaluable object which would be capable of restoring him to full power. Dumbledore had the stone moved to a vault at Gringotts Wizarding Bank, but later had it moved to Hogwarts itself; coincidentally, on the same day that an attempted break-in was made upon the vault. It was retrieved by Hagrid, who was also taking Harry to buy his school supplies.
Dumbledore and several teachers (McGonagall, Flitwick, Sprout, Snape and, dubiously, Quirrell) at Hogwarts planted magical security methods to protect the stone. Dumbledore was behind the final, and most powerful protection placed upon the stone. He enchanted the Mirror of Erised to contain the Philosopher's Stone, only to be removed by someone who did not intend to use or possess it, but only to keep it from the hands of evil. Dumbledore suspected that the Defence Against the Dark Arts Professor Quirinus Quirrell was behind the plot to steal the Philosopher's Stone, while working for the weakened Lord Voldemort, and as such he asked Snape to keep an eye on him. He also anonymously returned James's Invisibility Cloak to Harry as a Christmas present.[15]
Over a series of nights, Harry Potter proceeded to visit the Mirror of Erised as often as he could to see his parents' faces. Dumbledore found Harry visiting the mirror one night, and after explaining to Harry what the mirror was all about, told him that the mirror was to be moved and requested that Harry not go looking for it. Before heading back to bed, Harry asked Dumbledore what he saw when he looked into the mirror. Dumbledore claimed to see himself holding a pair of thick, woolen socks, telling Harry that "one can never have enough socks."[15] If this had been true, it would suggest that Dumbledore was so content with life that the only things he wished for were small things. However, Dumbledore was joking — the matter being a very personal one. As revealed to Harry in 1998 Dumbledore always, since the incident in his youth, saw his family whole and intact, free of any pain or suffering.[10]
In the end it was Harry who protected the Philosopher's Stone from Quirrell and Voldemort. Voldemort failed for the same reasons he had failed to kill Harry previously: due to Lily Potter's love for Harry. When Voldemort, who had possessed the body of Quirrell, ordered his servant to attack the young boy, the protection instilled within him at the point of his mother's death killed him and forced the Dark Lord's spirit to flee. When Harry recovered from the ordeal in the hospital wing, he questioned Dumbledore about why Voldemort had tried to kill him as a baby. Dumbledore did not believe that Harry was ready to know the truth about the Prophecy Sybill Trelawney had made, and told him he would know when he was older (although this would actually later turn out to be a mistake).
At the end-of-year feast, Dumbledore awarded an extra 170 house points to Gryffindor students, Harry Potter (60), Ron Weasley (50), Hermione Granger (50) and Neville Longbottom (10), respectively for bravery and logical skills, prompting Gryffindor to win the House Cup, ruining Slytherin's chance of the cup for the seventh year in a row. This may have shown an unprofessional amount of bias towards Gryffindor to announce their win in such unusual circumstances.
1992–1993Edit
"It is our choices Harry, that show what we truly are, far more than our abilities."
—Dumbledore's advice to Harry Potter
Shortly into the school year of 1992, students again fell under attack from a beast allegedly released from the Chamber of Secrets. Under the influence of Lucius Malfoy, the Hogwarts board of governors voted to remove Dumbledore from his position as Headmaster when he proved unable to uncover the culprit; Minister for Magic Cornelius Fudge also had the groundskeeper Rubeus Hagrid taken to Azkaban, acting under the theory that it had been he who opened the Chamber in 1943.[16]
It was later revealed that first year student, Ginny Weasley, had come into possession of Tom Riddle's Diary, a bewitched object capable of interacting with whoever wrote in it. The diary slowly drained the life force from Ginny, and when the memory it contained was nearly strong enough to take physical form, it had her journey into the heart of the Chamber. However, Harry Potter was able to find the Chamber himself, and there, defeated the beast that dwelt within; Salazar Slytherin's Basilisk. He also destroyed the diary with one of the basilisk's fangs, saving Ginny and defeating the nearly fully formed memory of Riddle. Harry was only able to achieve these feats by displaying an extreme amount of loyalty to Dumbledore; for only someone truly loyal to the Headmaster would be capable of summoning his pet phoenix Fawkes, who provided the tools needed for Potter to defeat Riddle and the basilisk.[16]
Dumbledore mysteriously returned to his position as Headmaster after the memory of Riddle was revealed as being behind the attacks. He commended both Harry and Ron for solving the mystery with the Special Award for Services to the School and two hundred points each for them, securing Gryffindor for the House Cup for the second year running and again ruining Slytherin's chances, fuelling the hatred and rivalry between the two houses. He also secured Hagrid's release from Azkaban and cancelled exams as a special treat.[16]
However, Dumbledore was privately concerned by the phenomena that Harry described; a mere memory capable of taking physical form was unheard of. Dumbledore then began to suspect that Riddle's diary was in fact a Horcrux, and furthermore, considering the lack of care the Dark Lord had taken in protecting the diary, that he had created more than one.[16]
During his final talk with Harry in his office, Dumbledore came close to telling Harry about his connection with Voldemort but refrained from doing so as he felt that twelve years old was still too young to learn the truth and he wanted Harry to enjoy this night of triumph.[14]
1993–1994Edit
"Now, pay attention. Sirius is locked in Professor Flitwick's office on the seventh floor. Thirteenth window from the right of the West Tower. If all goes well, you will be able to save more than one innocent life tonight. But remember this, both of you: you must not be seen. Miss Granger, you know the law — you know what is at stake... You — must — not — be — seen. I am going to lock you in. It is — five minutes to midnight. Miss Granger, three turns should do it. Good luck."
—Albus Dumbledore helping Hermione in 1993
The year after, the Ministry of Magic took it upon itself to increase security around Hogwarts. Sirius Black, who had been sentenced to life in Azkaban for murdering Peter Pettigrew and several Muggles with a single curse, had escaped from the wizarding prison. The Ministry, afraid that he was going after Harry, placed a large number of Dementors at Hogwarts to try to recapture him. Dumbledore reluctantly tolerated the Dementors on school grounds, but refused to allow them within the school itself.[17]
However, the Dementors violated Dumbledore's decree when they entered Quidditch match between Gryffindor and Hufflepuff, causing Harry to fall unconscious and fall from the sky. Dumbledore was able to prevent Harry from hitting the ground and repelled the Dementors with a Patronus.[17]
As the school year drew to its close, it became clear to Harry and his friends that Sirius Black had been framed for his crimes. But Sirius was captured and sentenced to the Dementor's Kiss. Dumbledore believed Harry and his friends about Sirius's innocence, but was incapable of over-ruling the Ministry's decision. However, he told Hermione to use her Time-Turner to save Sirius. The rescue was a success, and the Dementors were removed from the grounds for their attack on Harry.[17]
Dumbledore saw Remus Lupin, the new Defence Against the Dark Arts teacher, off after Snape leaked his identity as a werewolf to the school. Harry was also seeing Lupin off too and Dumbledore could tell that Harry was troubled. Harry explained how guilty he felt allowing Pettigrew, the real culprit who had framed Sirius, to escape, which coincides with a prediction Trelawney made. Therefore, he feared that he may have indirectly given Voldemort a servant to return him to power. Dumbledore assured Harry that he did a noble thing in saving Pettigrew's life, forging a deep, magical bond between them, and he promised Harry that one day he'd be glad he spared Pettigrew.
At the end of the year Dumbledore began to feel uneasy about concealing the truth of Sybill Trelawney's prophecy because even though Harry was still young, he had proven himself to be exceptional, and he would have to be told soon.[14]
1994–1995Edit
"It is my belief — and never have I so hoped that I am mistaken — that we are all facing dark and difficult times. Some of you in this Hall have already suffered directly at the hands of Lord Voldemort [...] A week ago, a student was taken from our midst. Remember Cedric. Remember, if the time should come when you have to make a choice between what is right and what is easy, remember what happened to a boy who was good, and kind, and brave, because he strayed across the path of Lord Voldemort. Remember Cedric Diggory."
—Dumbledore regarding Cedric Diggory who was murdered during the tournament

Before the beginning of the new school year, the first Death Eater activity in years broke out at the Quidditch World Cup, causing Dumbledore to suspect that the second rise of Lord Voldemort was near. Later, Hogwarts played host to the first Triwizard Tournament since 1792. It was decided that only students of age would be allowed to enter their names to the Goblet of Fire, because of the dangers the tournament represented, and Dumbledore personally drew an Age Line around the magical artefact to ensure that this rule would be impossible to break. During this year, Dumbledore employed his old friend, Alastor Moody, an ex-Auror, as the new Defence Against the Dark Arts Professor. Moody took this position only as a personal favour to Dumbledore.
However, unknown to anybody, a day before Moody was set to arrive at Hogwarts, he was overpowered by Death Eaters Barty Crouch, Jr. and Pe