8 May is the 128th day of the year (129th in leap years). There are 237 days remaining until the end of the year.
Events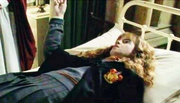 Births
Notes and references
↑ Harry Potter and the Chamber of Secrets, Chapter 14 (Cornelius Fudge) The match took place the next Saturday following the Easter holidays. Easter was on April 11th in 1993 and the holidays are traditionally two to three weeks long. The next Saturday after three weeks is April 8th
External links
Ad blocker interference detected!
Wikia is a free-to-use site that makes money from advertising. We have a modified experience for viewers using ad blockers

Wikia is not accessible if you've made further modifications. Remove the custom ad blocker rule(s) and the page will load as expected.