The following events occurred in the year 1996: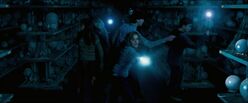 Events
January
February
April
May
June
July
Late Summer
Rufus Scrimgeour sends a letter to Albus Dumbledore trying to get him to convince Harry Potter to become the Ministry of Magic's poster boy.
September
1 September: the first meeting of the Slug Club takes place on the Hogwarts Express. Harry sneaks into Draco Malfoy's compartment and gets hit with a Full Body Blind Curse. Nymphadora Tonks rescues him and Severus Snape takes him to the Welcoming Feast.
December
Individuals that started at Hogwarts
Individuals that graduated from Hogwarts
Deaths
Behind the scenes
See also
External links
Notes and references