The following events occurred in the year 1996: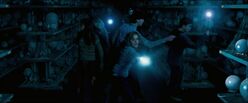 Events
Between Monday 1 April and Friday 5 April:
Late Summer
1 September: the first meeting of the Slug Club takes place on the Hogwarts Express. Harry sneaks into Draco Malfoy's compartment and gets hit with a Full Body Blind Curse. Nymphadora Tonks rescues him and Severus Snape takes him to the Welcoming Feast.[18]
Individuals that started at Hogwarts
Individuals that graduated from Hogwarts
Deaths
Behind the scenes
See also
External links
Notes and references
Ad blocker interference detected!
Wikia is a free-to-use site that makes money from advertising. We have a modified experience for viewers using ad blockers

Wikia is not accessible if you've made further modifications. Remove the custom ad blocker rule(s) and the page will load as expected.