The following events occurred in the year 1995: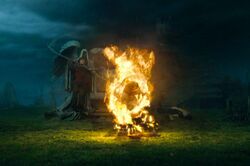 Events
Unknown date
Original Timeline
Second Timeline
Third Timeline
Fourth Timeline
24 February:

Scorpius Malfoy travels in time from 29 October, 2020 of the third timeline to the first task. Scorpius Malfoy uses a Shield Charm to stop his other self intervening in the first task. He has yet to stop the intervening with the second task but when he does, it turns things back to how they were in the original timeline.
Quidditch
Known individuals that graduated from Hogwarts
Deaths
Behind the scenes
External links
See also
Notes and references
Ad blocker interference detected!
Wikia is a free-to-use site that makes money from advertising. We have a modified experience for viewers using ad blockers

Wikia is not accessible if you've made further modifications. Remove the custom ad blocker rule(s) and the page will load as expected.