The following events occurred in the year 1995: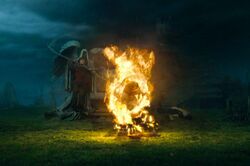 Events
Quidditch
Known individuals that graduated from Hogwarts
Births
Deaths
Behind the scenes
External links
See also
Notes and references
↑ 1.0 1.1 Harry Potter and the Goblet of Fire, Chapter 16 (The Goblet of Fire)
↑ Harry Potter and the Order of the Phoenix, Chapter 14 — Percy and Padfoot
↑ The Tales of Beedle the Bard - Introduction
↑ Harry Potter Limited Edition - A Guide to the Graphic Arts Department: Posters, Prints, and Publications from the Harry Potter Films (see this image)
↑ As fourth-years have Transfiguration on Thursdays and earlier that day Harry got held back in Transfiguration, that day was a Thursday. According to that same chapter, it was in the last week of May. If this is correct, it happened on a Thursday in the last week of May. According to this calender produced by the Harry Potter Lexicon, that day was the 27th. See this page for source on the year.
↑ Harry Potter and the Order of the Phoenix - Chapter 37 (The Lost Prophecy). Phineas Nigellus says "Am I to understand that my great-great-grandson -- the last of the Blacks -- is dead?". This means that Callidora is dead by that date, 18 June 1996, but the Black family tree did not list her death in August, 1995.