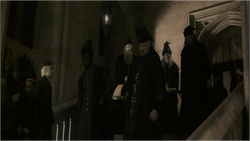 The following events occurred in the 1940s:
Events
Quidditch
Births
Deaths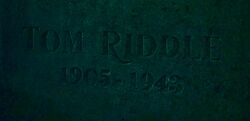 Behind the scenes
27 January, 1947: Peter Burroughs born.
31 July, 1947: Richard Griffiths who plays who plays Vernon Dursley is born
According to the mini-adventure The Queen's Handbag, Augusta Longbottom, grandmother of Neville Longbottom, was the victim of a prank by her husband involving her handbag and a fanged gerbil in 1947, leading her to booby-trap her handbags from then on (leading to some pain for Ron Weasley). The Queen's Handbag breaks from canon in several places (not least of which by being set in 2006), so therefore whether anything included in the adventure actually counts as continuity is a matter of debate. This piece of information regarding Longbottom is listed here, however, as the only piece of new Potter Universe backstory offered in the mini-adventure.
14 April, 1949: Christopher Whittingham, who played a Ministry wizard in the film adaptation of Harry Potter and the Goblet of Fire, born.[13]
13 May, 1949: Zoë Wanamaker, who played Rolanda Hooch, born.
24 May, 1949: Jim Broadbent who plays Horace Slughorn is born.
20 October, 1949 George Harris who plays Kingsley Shacklebolt is born.
12 December, 1949: Bill Nighy, who played Rufus Scrimgeour, born.
See also
External links
Notes and references