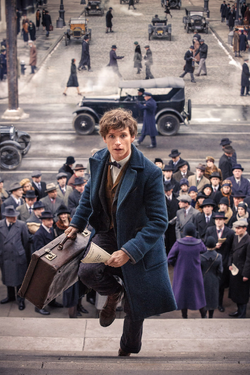 The following events occurred in the 1920s:
Events
31 December, 1926: Merope Gaunt comes staggering up the front steps of Wool's Orphanage, in London. The matron, Mrs Cole, takes her in, and she has her baby in the hour. Merope gives instructions for her son to be named Tom Marvolo Riddle (in honour of his father and his maternal grandfather) and dies.

1927: Fantastic Beasts and Where to Find Them, written by Newt Scamander, is first published.[12]
1 September, 1928: Celestina Warbeck starts at Hogwarts School of Witchcraft and Wizardry, and is Sorted into Gryffindor.
c.1928: Morfin Gaunt returns to the Gaunt shack from at least his first imprisonment, only to find his father dead and sister abandoned.
1929: Lady Margaret Nurseries is established.[13]
1929: The Comet Trading Company is created by Randolph Keitch and Basil Horton. They release the Comet 140 as their first product.[9]
Births
Deaths
Behind the scenes
See also
External links
Notes and references
↑ Quidditch Through the Ages, Chapter 7 (Quidditch Teams of Britain and Ireland)}}
↑ Harry Potter Wizard's Collection — Label Collection book (see this image)
↑ Lord Voldemort, the son of Merope Gaunt and Tom Riddle Snr was born on December 31, 1926. Albus Dumbledore stated that Merope and the elder Riddle were married a year before his birth. It is likely that the Gaunt men's arrest took place in the months before the marriage.
↑ 9.0 9.1 Quidditch Through the Ages, Chapter 9 (The Development of the Racing Broom)
↑ Harry Potter and the Half-Blood Prince, Chapter 10 (The House of Gaunt)
↑ 6 December 1926 is printed on The New York Ghost newspaper in Fantastic Beasts and Where to Find Them (film)
↑ Fantastic Beasts and Where to Find Them - Introduction (About This Book)
↑ Harry Potter Limited Edition - A Guide to the Graphic Arts Department: Posters, Prints, and Publications from the Harry Potter Films (see this image)
↑ 15.0 15.1 Harry Potter and the Philosopher's Stone (video game) (Appears on a Famous Wizard Card)
↑ Harry Potter and the Half-Blood Prince, Chapter 17 (A Sluggish Memory)
↑

We know that Chamber of Secrets takes place in 1992. Fifty years earlier was 1942. In this year, Hagrid was a third year, and Riddle was two above him, meaning he was a fifth year. 15 years before 1942 was 1927. However, Riddle was born on New Year's Eve, making it 1926.

↑ Harry Potter and the Philosopher's Stone, Chapter 4 (The Keeper of the Keys) - Hagrid says he was expelled in his third year, which we learn in Harry Potter and the Chamber of Secrets, was in 1942.
↑ "Shirley Henderson Coming Back for GoF" from The Leaky Cauldron