13 September is the 256th day of the year (257th in leap years). There are 109 days remaining.
Events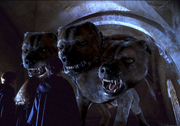 External links
Notes and references
↑ In Harry Potter and the Half-Blood Prince, Chapter 11 (Hermione's Helping Hand), the Daily Prophet reports "Mr Shunpike, 21, was taken into custody late last night". This happens on 14 September as it is one week after Harry's and Dumbledore's first private lesson ("Now Harry came to think of it, he had not seen Dumbledore since their private lesson a week ago.") which we know was on Saturday after the first week of class. (Harry Potter and the Half-Blood Prince, Chapter 10 (The House of Gaunt) - "Ah, good evening, Harry. Sit down," said Dumbledore, smiling. "I hope you've had an enjoyable first week back at school?""). As 1 September 1996 falls on a Sunday then the day before the second Saturday of term would be the 13th.
Ad blocker interference detected!
Wikia is a free-to-use site that makes money from advertising. We have a modified experience for viewers using ad blockers

Wikia is not accessible if you've made further modifications. Remove the custom ad blocker rule(s) and the page will load as expected.