The Shield Charm is a term applied to several varieties of charms that create a magical barrier to deflect physical entities and spells. The latter may sometimes rebound directly off it back towards the caster and at others may ricochet off in other directions or dissipate as soon as they hit the shield. It will not repel any effectively cast Unforgivable Curse.
The Shield Charm is a moderately difficult spell. Fred and George Weasley realised that most adult wizards, even those employed by the Ministry of Magic, could not produce a functional Shield Charm. They used this to their advantage when marketing their line of protective clothing (hats, cloaks, etc), upon which Shield Charms were cast.
The incantation for the simplest Shield Charm spell is Protego. Incantations for other varieties of the Shield Charm include Protego Duo, Protego Horribilis, Protego Totalum and Protego Maxima.
Known uses
Harry Potter
Other
Known users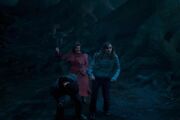 Etymology
Latin protego, "I cover" or "I protect".
Known Variations
Behind the scenes
In the films, it has been noticed that wizards/witches are able to parry spells as if their wand was a saber. This may be a non-verbal variant of the shield charm. Another possibility is that wands themselves have inherent magical qualities that allow some spells to be rebounded off of them.
Appearances
Notes and references