Dean Thomas was a Hogwarts student in the same year as Harry Potter. He is one character that J.K. Rowling has not been able to develop as fully in the books as she has in her imagination.
Biography
Early life
Dean's background is not fully explored in the books, but J.K. Rowling revealed on her website that, although he is in fact the son of a wizard father and a Muggle mother, Dean grew up thinking he was a Muggle-born. His father left when Dean was very young, never telling his wife that he was a wizard, out of the belief not knowing the truth would protect her. Dean's father was later killed by Death Eaters when he refused to join them. Dean's mother remarried a Muggle, Mr. Thomas, who raised Dean as his own son after the death of Dean's natural father. Dean lived with several half-siblings in London and was stated by J.K. Rowling to have had a "very happy home life."[1]
Hogwarts
The arrival of a letter for Dean from Hogwarts caused Mrs. Thomas to suspect that Dean's father may have been a wizard.[1] Dean started at Hogwarts on September 1, 1991 and was sorted into Gryffindor, where he became friends with Seamus Finnigan and the Weasley twins. He was a supporter of the West Ham football team and was good at drawing.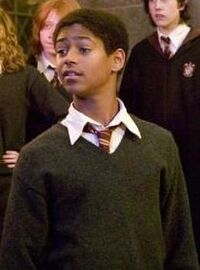 Dean Thomas was one of the first to arrive for the inaugural meeting of the group that became Dumbledore's Army in Harry Potter and the Order of the Phoenix and his support for his friends does not appear to have faltered.
Toward the end of Harry Potter and the Order of the Phoenix, and through the first part of Harry Potter and the Half-Blood Prince, Dean was linked romantically with Ginny Weasley. Harry may have contributed to their split while under the influence of Felix Felicis, a good luck potion, which caused Harry (who had developed an interest in Ginny himself) to bump into Ginny while under the invisibility cloak. Fortunately for Harry Potter, Ginny blamed Dean, and the resulting squabble proved fatal to their already (according to Hermione) rocky relationship.
On the run
Dean's role is expanded in Harry Potter and the Deathly Hallows. Dean's presumed muggle-born status puts him on the run from the Ministry, which is rounding up Muggle-born wizards and witches upon Voldemort's orders. Harry, Ron, and Hermione first come across him during their mission as they eavesdrop on his conversation with fellow runaways.
The group, consisting of Dean, Ted Tonks, Dirk Cresswell, and the goblins Griphook and Gornuk, is later attacked by Snatchers, with Dean and Griphook being the only survivors. When Harry, Ron, and Hermione also end up being captured, Fenrir Greyback brings Dean and Griphook along to the Malfoy Manor. However, they are eventually rescued by Dobby the house-elf, who is injured during the escape and dies shortly after transporting them to Bill Weasley's cottage for protection. After Dean's rescue, he spends months with Luna, Griphook and the trio at Bill's cottage; Dean and Luna appear to get on all right, though as with Harry and the others, Dean appears bemused by some of her comments. They do, however, grow more comfortable with each other as evidenced by Dean pointedly taking Luna by the hand before heading out to prepare for The Battle of Hogwarts against Lord Voldemort and his Death Eaters. Though he loses his wand earlier in the book, Dean is able to obtain another one during the battle. He duels with Antonin Dolohov and uses a Stunning Spell on another Death Eater after the Death Eater is distracted by the presence of someone under a invisibility cloak - which was in fact Harry, Ron and Hermione. Dolohov attempts to retaliate but Parvati Patil uses a Body-Bind Curse.
Physical description
Dean was described in the American edition of Harry Potter and the Philosopher's Stone as a black boy who was even taller than Ron Weasley. J.K. Rowling explained on her website that the reason this description was left out of the British edition of Philosopher's Stone was that her editor "thought that chapter was too long and pruned everything that he thought was surplus to requirements."[1]
Behind the scenes
A drawing at one time posted on J.K. Rowling's website revealed that Dean's first name was "Gary" in early drafts of Philosopher's Stone.[2]
Rowling included information on Dean's background in an early draft of Harry Potter and the Chamber of Secrets, but ultimately cut it out, as she felt it was an "unnecessary digression." She stated that she had to a certain extent traded Dean's "voyage of discovery" for Neville Longbottom's because the latter character's discoveries about his past were more relevant to the main story.[1]
Rowling said that when it came time for casting the film adaptation of Philosopher's Stone, she told director Chris Columbus about Dean, and that she thought he was "slightly taken aback" by how much she had developed the background of such a minor character.[1]
References
This article about a specific character is a stub. You can help by expanding it.