Brockdale Bridge
Location information
Location

London, England, Great Britain

Affiliation

Muggle world
The Brockdale Bridge was a bridge located in London. It crossed the River Thames; it stood where the Millennium Bridge stands today.[1] It was built around 1985 and destroyed by Death Eaters in the Summer of 1996.[2]
History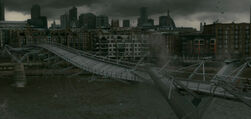 Less than ten years old in 1995, the bridge seemingly collapsed and killed a large number of Muggles who were on the bridge at the time. In the summer of 1996, Lord Voldemort ordered Cornelius Fudge to step down from his position as Minister for Magic, with the threat of a mass Muggle killing if he did not do so; Fudge refused to step down, and Voldemort caused the Brockdale Bridge to collapse. Fudge was replaced by Rufus Scrimgeour soon after.
Notes and references
Appearances